Available In 5 Sizes: 4"-9"
Quality tools that are just right for your way of painting are essential for beautiful results. In 2018 we launched SP CREATE Cold Wax Tools to meet the specific needs of artists using cold wax medium. Our custom-designed, exclusive line of brayers and squeegees offer you the highest degree of expression and durability. (Also great for water-based media)
SP CREATE Tools are available exclusively through our website.
It's frustrating when your tools aren't the right size or don't handle or perform they way you need them to. Our exclusive line of custom-made squeegees ends those frustrations.
Working directly with the manufacturer we designed 5 unique shapes and sizes we feel offer artists the ability to fully realize their creative vision.
The stainless steel core is firm and comfortable in your hand, and the precision edge has the perfect degree of 'flex' to fully control your surface. The silicone material is resistant to chemicals and cleans easily.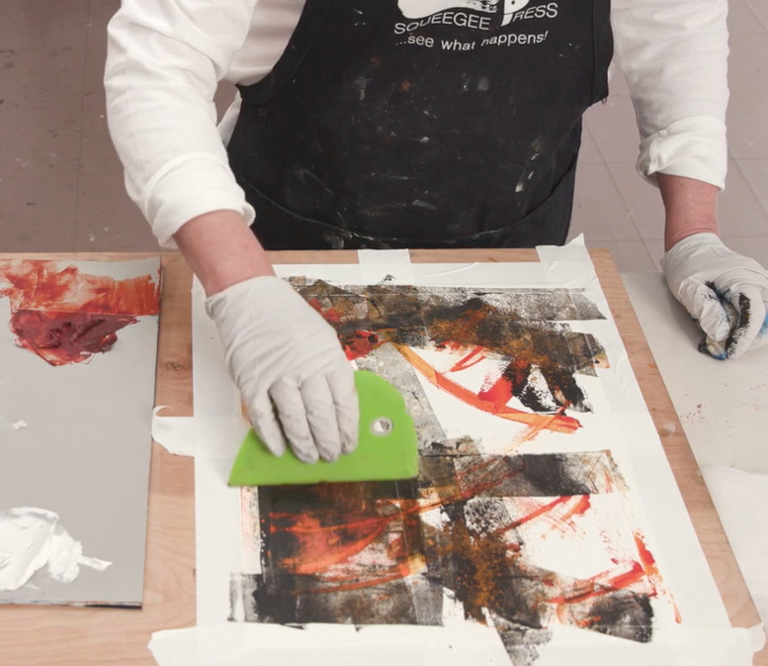 These tools have changed the way we paint, and we know they will do the same for you.
4-inch Detail Squeegee [RED]
$12.95
This 4" tool is perfect for small works and for creating fine, detailed effects in your painting.
5-inch Small Squeegee [GREEN]
$13.65
This 5" tool is good for small and medium size works, for those with smaller hands, or for detail work in larger paintings.
6-inch Standard Squeegee [BLUE]
$13.95
Our 6" version is the 'workhorse' of the group. Good for basic techniques on a variety of different paintings.
7.5-inch Large Squeegee [TERRACOTTA]
$15.95
This 7.5" squeegee is good for medium to large works and for creating bolder effects on your surface.
9-inch X-Large Squeegee [BLACK]
$16.95
Our 9" squeegee is great for artists wanting to work larger. This tool covers big surfaces with a finesse and control not before possible with other tools.