With Our Books.

Watching our Videos.

With Better Tools.

Together Online.
We bring the joy and creativity of cold wax medium to artists through books, videos, online learning, workshops, tools, and artist mentoring.
We envision Cold Wax Academy as a comprehensive resource for artists using cold wax medium and a place to discover exciting new approaches for contemporary art.
Jerry McLaughlin & Rebecca Crowell // Founders
Our Exclusive Dedicated
Cold Wax Medium
Membership Opportunity
Cold wax medium, or CWM, is an oil painting medium. It is composed mainly of beeswax, with a small amount of solvent to soften it. It has a soft, paste-like consistency at room temperature and dries to a matte surface. Unlike encaustic processes, it requires no heat. CWM adds body to oil paint, speeds drying time, adds luminosity, and allows artists to build up beautiful textural effects and layers.
"It's a rare occurrence for one specific painting medium to have a whole genre of painting associated with it, but Cold Wax Medium is one such medium. Cold Wax Painting is not defined by subject matter nor the degree of realism or abstraction, Cold Wax Painting is unified by artists' shared interest in experimentation, texture and the physicality of paint layers." – Gamblin Paints
If you are ready to get started with Cold Wax, our exclusive kit includes everything you need to begin exploring the exciting creative potential of cold wax medium.
"We have carefully selected the products included in this kit to give you everything you need for your first steps. We use them ourselves and hope they will become favorites that you continue to use in years to come."
-Jerry & Rebecca, Founders of CWA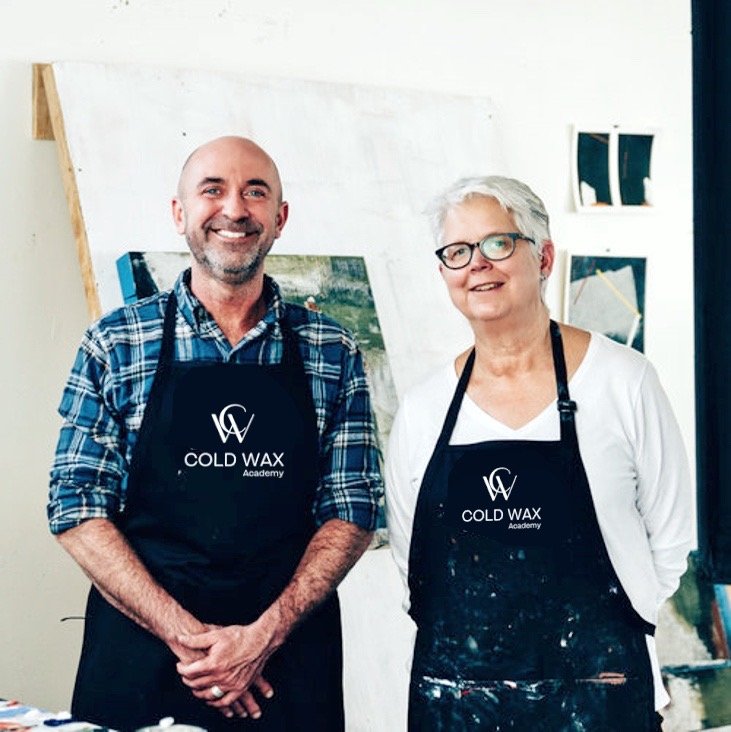 "The Cold Wax Book is hot."

"Impressive, substantial presence."

"A friendly and valuable book."

"This medium is having a revival."
Cold Wax Medium: Techniques, Concepts & Conversations has an impressive, substantial presence. At 320 pages, it's a bigger book than its authors originally envisioned, but that's what happens when the right people tackle a previously unexplored topic: the urge to create something comprehensive takes over.
Samhradh, Samhradh (Summer, Summer). A beautiful abstract landscape by Irish artist Cora Murphy.
Thank You For The Great Reviews
I have worked in Encaustic and other media for years, but took a short 2 hour cold wax last year. It seemed like a good option during the time of year that I couldn't use encaustic due to time or weather constraints (hot wax needs venting). I found this site and recently bought the book, which just arrived on my doorstep. I am delighted with the detail, the wealth of information, and the pure fun of reading this well crafted book. I have many art books and how-to books, but this has sprung to the top of my list. It is awesome. It is a quality production item, and I hardily recommend it to anyone interested in working with wax. Well worth the price, which is far cheaper than I would have expected for what is offered.

Barb Smith


May 23, 2017

Det er en fantastik alsidig bog. Du får hele undervisningen i cold wax medium fra første side til den sidste side. Den tungeste bog jeg længe har haft som lærebog.man kan næsten ikke have bedre indgang til det kunsteriske side af denne art for kunst. Jeg bruger den hver dag. Mange venlige hilsener Bonna Siff Jensen

Bonna Siff Jensen


April 15, 2020

I understand that this book has been seen as the Bible when it comes to cold wax medium. After reading it, I do agree very much! In my eye it is a wonderful book, it had me captured from the moment I opened it, with all the educational chapters, the beautiful illustrations and elegant layout I strongly recommend this book!

Merete Hov


October 11, 2019
Stream Our Video Workshop
Are You A Visual Learner?
Our Cold Wax Video Workshop, and more video content, is available for immediate viewing to our FULL Members.
Jerry McLaughlin and Rebecca Crowell take their highly respected teaching practice beyond the classroom with this 29-part High-Definition (HD) video that packs in all the demonstrations, techniques, and topics they present in the 5-day workshops they teach around the world. Over a year in the making, it was filmed and edited by a professional team of videographers and is nearly 7 hours long! Their book and video together offer an unrivaled, in-depth learning experience. The video is available for immediate viewing to our FULL Members.
Max McConkey | www.maxmcconkeyart.com